ICT Mark NAACE
AACE AWARD
Ysgol Ty Coch Strategic vision for ICT:
Children and young people will develop skills to know when and when not to use IT and the necessary abilities to use it effectively and independently at will. They will have access to high quality digital learning. They will reach levels of attainment in ICT capability at the end of each Key Stage that match or exceed national expectations. IT capability will be a key component in our pupils' independent learning toolkit and will be used across a wide range of subjects.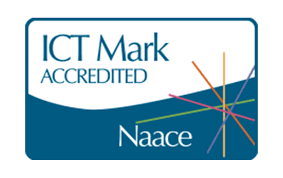 In September 2015 Ysgol Ty Coch achieved the prestigious NAACE ICT Mark, for the second time. This award is for schools which use technology well to support teaching, learning and administration. Schools with this award drive change and many are, or go on to be, outstanding. Having achieved the ICT Mark we are now aiming to gain the Third Millennium Award.