Literacy: Teaching and Learning Strategies
Jolly Phonics
Jolly Phonics is a fun and child centred approach to teaching literacy through synthetic phonics. With actions for each of the 42 letter sounds, the multi-sensory method is very motivating for children and teachers, who can see their students achieve. The five skills taught in Jolly Phonics:
Learning the letter formation;
Learning the letter sounds
Using different multi-sensory methods to learn how to form and write letters;
Blending sounds together to read and write new words;
Segmenting – identifying the sounds in words;
Tricky words – learning irregular words that don't follow phonetic conventions.
Letters and Sounds
Letters and Sounds is a phonics resource published by the Department for Education and Skills in 2007. It aims to build children's speaking and listening skills in their own right as well as to prepare children for learning to read by developing their phonic knowledge and skills.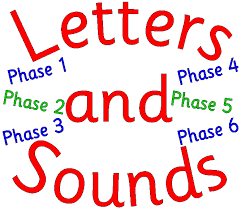 Squiggle While You Wiggle
An early years writing intervention based on the FEW approach:
Fun;
Excitement;
Willingness.
Write Dance

Write Dance programme is the use of music and dance in learning letter formation. The combination of rhythmic and then melodic pieces of music are chosen so the children can follow and learn specific movements to develop their physical skills including, balance, coordination, flexibility and stamina.

The music and dance are used to guide and aid children's imagination and language development, so the pieces of music, with the corresponding movements, are structured into 'narrative' themes that can be developed as stories or these can be enjoyed as separate and 'stand-alone' sessions.

Rhythm is closely linked to rhyme and children are encouraged to use their voices to describe the actions as they move and dance. Mark-making and 'movement drawings' ensure that the children progress from whole body dance moves to fine- motor movements with fluency and speed.
"Everything in Write Dance is Right"
Children's individual expression, pace of learning and writing style are recognised within this approach.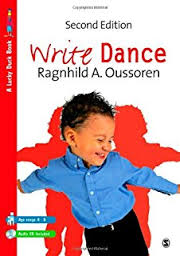 Pops Reading Scheme

POPS stands for Plenty Of Potential!
The POPS Reading Scheme is designed for children with:
Autism (ASD);
Speech and Language Impairment;
Down syndrome.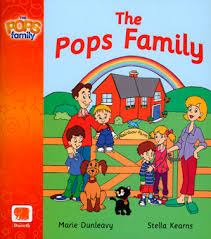 The reading scheme was launched in 2004. Today, it is successfully used in over 3,500 primary and special schools and by many parents at home.

The reading scheme delivers a natural language experience where children are taught the language they will need in their everyday lives. The story topics are understandable and relevant to the child's experiences. The illustrations are simple, attractive and uncluttered.

It progresses in small easy steps, helping the child to become an effective reader by developing both word recognition (phonics) and reading comprehension (meaning) skills. It is designed to be easily adaptable to individual learning needs.
Oxford Reading Tree
The home of Biff, Chip and Kipper!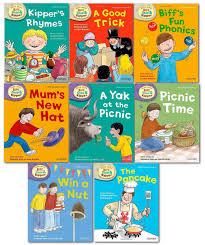 As the UK's most successful reading scheme, Oxford Reading Tree is currently used in over 80% of primary schools and has helped millions of children from all over the world learn to read ... and love to read. Rooted in reading for pleasure and with systematic phonics at its heart, Oxford Reading Tree's well-loved characters, breadth (over 800 books!) and varied writing styles give children everything they need to become confident readers.

Dockside Reading Intervention

The award-winning systematic phonics-based reading intervention programme, specifically designed for older pupils. The main objectives are:
Build confidence with a pacey step-by-step phonic approach;
Engage and motivate with real-life stories that students can relate to;
Easy and effective implementation with detailed support and guidance for the teacher and teaching assistants;
Ideal for pupils for whom English is not their first language.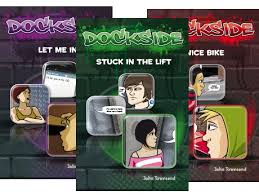 Whole Word Reading
At Ysgol Ty Coch we recognise that phonics based approaches are not suitable for every child. We are all different and we learn differently! In the event that a phonics based approach is not the most appropriate – for example some students may struggle with blending and therefore find the method demotivating, teachers are encouraged to use 'whole word' methods to encourage reading development.

The Whole Word method of literacy instruction instructs learners to recognize words as whole units without breaking them down into sounds or letter groupings. It focuses on the word as the minimum unit of meaning and therefore the essential base element of reading.
While Phonics instruction emphasizes sounds as the smallest units of language to be learned and manipulated, whole language focuses on comprehension with words as the smallest units.
Whole Word approaches always emphasize learning to read through the act of reading.
In practice, whole language instruction usually includes:
Sight-memorization techniques;
Reading aloud;
Prioritizing finding engaging reading material;
Comprehension exercises.