Our Curriculum
Core Purpose of the Curriculum
The curriculum at Ty Coch reflects the holistic needs of all of the children. Its priorities' are the learning outcomes for our children who experience complex, severe and profound learning disabilities. It has therefore been designed by staff, parents and pupils who have an acute knowledge of the learning needs of the children.
When designing the curriculum, staff have incorporated statutory and non-statutory guidance and the following broad range of principles. The curriculum has been designed for National Curriculum requirements, including Literacy and Numeracy Framework with specialized consideration being given to the future of education in Wales, to ensure a curriculum which is flexible, reflective, takes into account stakeholder views and which will evolve to reflect the needs of the pupils. We ensure that the teaching of all curriculum areas is fully inclusive and all pupils irrespective of race, gender, colour or additional need have equal access and opportunity.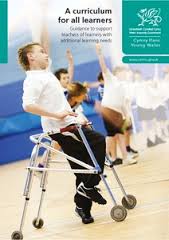 The Curriculum for All Learners Document states:
To enable all learners' access to relevant skills, knowledge and understanding at an appropriate level, schools may select content from the foundation phase or any key stage within the curriculum and use it flexibly together with the skills framework 2008 in order to:
Provide a meaningful, relevant and motivating curriculum to their learners
Meet the specific needs of their learners and further their all round development
This is the principle on which we base our curriculum and assessment.
Welsh National Curriculum Changes
Please click this link for short animations explaining the changes to the curriculum in Wales
On June 30th, 2015, The Education Minister Huw Lewis accepted all of Professor Graham Donaldson's curriculum recommendations for a new Welsh National Curriculum. The curriculum becomes available to implement in 2018 and will be statutory requirement in 2021. In Ysgol Ty Coch, the systematic implementation of this curriculum has already begun. This work includes:
A review of the curriculum arrangements in Ysgol Ty Coch was undertaken in October 2015. This involved pupils, parents, staff, Governors and Multi-Disciplinary Agencies
A crucial recommendation from the curriculum review detailed a requirement to promote thematic learning to increase relevance for our pupils from Foundation to KS4, with a modular approach to learning in KS5
Current NC subjects (curriculum 2008) have been aligned to the Donaldson Report learning areas to form an holistic and thematic approach to learning for subjects from Foundation to KS4.
All staff have been involved in developing exciting and motivating teaching and learning activities which align to NC subjects core areas of learning at from Foundation to KS4 but which fit broadly under the Donaldson Areas for Learning
The LNF and a draft Digital Competence Framework are now embedded in curriculum delivery for Foundation to KS4
This curriculum model will substitute current NC with new curriculum content when Pioneer Schools have written the new curriculum
A "spiral curriculum" has been designed for pupils aged 3-14 based on a four year thematic rolling programme for sensory, foundation, KS2 and KS3.
At 14-19 there is a two year thematic rolling programme for KS4 regarding the Learning Core, a three year modular rolling programme for KS5 Learning Core.
At 14-19 there are three "Options" afternoons based on pupil voice and choice, planned as a three year rolling programme.
To view each individual curriculum area, please select from the options on the drop down menu.