Welsh Heritage Schools Initiative
As part of their curriculum, in the Spring term of some years, the KS3 have entered the Welsh Heritage Schools Initiative. This competition has further helped embed Curriculum Cymreig into the school curriculum. In 2014 and 2016 Ysgol Ty Coch has won the Special School category for the Welsh Heritage Schools Initiative.
In 2014, KS3 learned about the famous Welsh hymn Cwm Rhondda and the story of the composer John Hughes. He was born and lived near the school. He also worshipped in Salem chapel and and he is buried there.
In 2016 KS3 learned about the second World War. They learned about rations, visits from people who lived in wartime. They also held a tea dance, complete with a Big Band and all the staff and children dressed in 1940's clothes. they came 2nd in the WHSI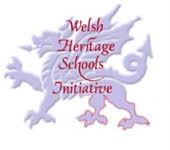 KS3 also won the John Hopla Award in 2016 for their second World War project. KS3 and the whole school were involved in local history from the 1940's , finding out about their local area during that time.
In 2017, the school entered for the John Hopla and the Welsh Heritage Schools Initiative , this time for a project based on the their theme Dungeons and Dragons, where they explored medieval life and linked it to the local area in Llantrisant. We had a medieval banquet where pupils and staff dressed up in medieval clothes. We also received 2nd place in the WHSI this year.
Since then we have taken part in the WHSI on a regular basis, we came 2nd in 2019 and learned about Welsh Icons.
In 2020 we have learned about the Railway Children and the valleys and the railway. We are looking forward to taking part in the WHSI as it is relaunched this year.